Steel Processing Services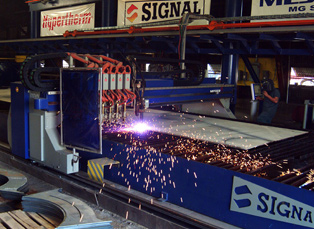 At Signal Metal Industries, Inc. we offer a comprehensive set of services specifically geared for processing steel in all of its raw forms. We have an impressive inventory of heavy duty equipment and machinery capable of converting raw materials into usable, cut-to-size parts in a very efficient and cost-effective manner. With our trustworthy reputation for quality and timeliness, we are a leading provider of steel processing services to all major industries.
Our equipment assets include an oxy-fuel operated CNC coping machine with a 42" x 48" throat capacity and 50' integrated run-out table. With its intelligent software controls, we can make a variety of profile cuts in large structural steel beams. We also have several radial arm drills capable of making holes as large as 3" in diameter and an adjustable vertical band saw capable of making close tolerance cuts. Other machinery we use for steel processing includes press breaks with a maximum capacity of 400 tons, a 300-ton bumping press, heavy-duty plate rollers, and high-tonnage punch presses. We also have a large 17' wide x 33' long x 23' tall oven for thermal stress relief, which is routinely calibrated to ASME standards to ensure process integrity.
As a shop that specializes in large fabrications and weldments, we have all the necessary experience and equipment for managing oversized parts with an exceptionally high degree of skill and precisions. As an ISO compliant company, everyone on our team, from the engineers and machinists, to quality specialists and shipping personnel, is committed to delivering parts that exhibit the highest standards of excellence. We continually invest in technologies to improve our operational efficiency and expand our service offering. Contact us today to learn more about our steel processing capabilities.
Steel Processing Capabilities
General Capabilities

Flame Cutting
Plasma Cutting
Plate Rolling
Saw Cutting
Structural Coping

Press Braking
Drilling / Tapping
Punching
Thermal Stress Relieving
Beveling
Equipment

Coping Machine

CNC Oxy-fuel Operated
42" x 48" Throat Capacity, 50' Integrated Run-out Tables

Drills

Cincinnati-Bickford Radial Arm Drill
9' Horizontal, 8' Vertical, 3" Diameter at 9'
Carlton Radial Arm Drill
5' Horizontal, 7' Vertical, 3" Diameter at 5'
5' Horizontal, 6' Vertical, 3" Diameter at 8'
Multi Cam

Saws Press Break/Shears

Cincinnati CNC – 10' long 230-ton press break
Cincinnati – 20' long 400-ton press break
Burns – 300-ton bumping press

Rolls

Faccin 3" X 10' wide variable geometry plate bending machine
Webb 3/8" x 8 ft wide plate roll
Westinghouse ¼" x 4 ft wide plate roll

Punches

100 Ton Piranha Punch
25 Ton Piranha Punch

Stress Relieving Oven

(1) Rail Car Bottom Stress Relieve Furnace
16'-10' x W 23' x H 33' L
Calibrated to ASME standard every three (3) months
Material

Castings
Forging
Alloy Steels
Aluminum
Brass
Bronze Alloys

Carbon Steel
Copper
Iron
Stainless Steel
Stellite (Hardfacing)
Lead Times Available

Quoted on Job by Job Basis
Emergency Services Available
Rush Services Available
Additional Information
Industry Focus (OEMs)

Aerospace
Agricultural
Architectural
Auto/Truck/Transportation
Chemical
Construction
Food
Heavy Industry

Machine Tool
Marine
Military
Mining
Oil Field
Steel Mill
Packaging/Converting
Power Generation
Industry Standards

ISO Compliant
AWS
ASME

ASTM
ANSI
File Formats

AutoCAD (DWG,DWZ)
SolidWorks (SLDPRT,SLDDRW,SLDDRT)
BMP
DXF
GIF
IGES
Inventor (IDW, IPT)
JPG or JEPG

MasterCam (MDX, MC8, MC9, SET)
PDES
PDF
STEP
SurfCam (DSN)
GIBBS Cam
TIFF