Custom Fabrication of Oil & Gas Fracking Pump Power Frames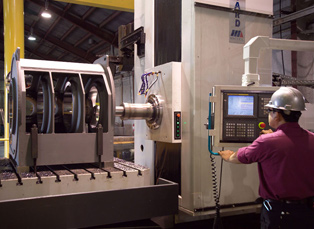 At Signal Metal Industries, Inc. we have the capacity for large runs, leveraging an array of capabilities that help our customers reduce costs and meet tight delivery schedules. Our facility is equipped with advanced robotic automation technology that is ideally suited for the fabrication of complex weldments with challenging geometries. We're a proven manufacturing company, providing multi-stage CNC machining that can meet close tolerance requirements. All of our services are performed in-house, allowing us to quickly adjust and ramp up to our customer's scheduling needs.
In this project, a Texas oil & gas industry customer required a production run of 2,500 H.P. frack pump power frames. Their supplied frame design called out overall part dimensions of 6' x 5' x 4' with tolerances as tight as + 0.001". The frames were made from a combination of several materials including A514 (T1), A36, bronze sleeves, and steel tubing. We leveraged a wide range of processes to fabricate each 4,000 lb. unit. This included plasma cutting, steel fabrication, CNC press brake forming, conventional and CNC machining including boring and turning, thermal stress relieving, and coating. The welding process proved to be the most challenging due to the complexities of the required materials. To meet this challenge we developed a set of proprietary welding station programming procedures. It allowed us to efficiently produce these complex weldments under an extremely tight timeframe. Upon completion, each frame underwent an intensive visual, hydrostatic, and dimensional inspection process; ensuring that all of our work met our customer's expectations.
This project was a successful culmination of many of our core competencies and highlighted our team's ability to deliver complex parts using innovative welding techniques, precision machining processes, along with thorough cleaning, sandblasting, and painting methods. All of our work conformed to standards of ASME, AWS, ASTM, and NACE. As a result, our customer was extremely pleased with our production capabilities and continued to order a high volume of frames to meet their demand. For more information on our work within the oil & gas industry, please refer to the table below or contact us directly.
Oil & Gas Fracking Pump Power Frames Project Highlights
Project Description

Oil & Gas Fracking Pump Power Frames
Capabilities Applied/Processes

Flame / Plasma Cutting
Production Sawing
Press Braking
Plate Rolling
Steel Fabrication
In process welding thermal ovens
Robotic Welding

CNC Machining
FARO Laser Inspection
Conventional Machining
Thermal Stress Relieving
Sandblasting
Painting
Equipment Used to Manufacture Part

Flame Cutting
Plasma Cutting
Plate Rolling
Press Braking
Large Conventional Boring Mill
CNC Boring Mills
CNC Lathes

Conventional Lathes
FARO Laser Tracker
Robotic Welding
Sub-Arc Welding Stations
Thermal Stress Relief Oven
Sandblasting Facility
Painting Facility
Overall Part Dimensions

5' Width x 4' Height x 6' Length
4,000 lbs.
Tightest Tolerances

±.001"
Material Used

A514 (T1), A36, Bronze Sleeves, Steel Tubing
Industry for Use

Oil and Gas
In Process Testing/Inspection Performed

Inspection per Router Steps, NDT, Dimensional, FARO Laser, Hydrostatic
Volume

Five (5) to Ten (10) per week
Delivery Location

Texas, USA
Standards Met

ASME, AWS, ASTM, NACE