Sandblasting & Painting Services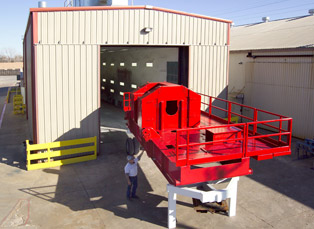 As part of our comprehensive job shop services, at Signal Metal Industries, Inc. we offer coating services that cover everything from small parts to our specialty, which are large, oversized weldments. Our NACE-certified coating service department is anchored by a large, state-of-the-art steel grit blasting booth with dimensions of 50' in length x 20' in width x 20' in height, followed by an even bigger paint booth with 70' x 20' x 20' capacity. We are capable of building customized racking systems for parts of any size as well as transport fixtures to facilitate the processing of large fabrications.
Pre-coating preparation ensures uniform coating adhesion. We can remove old coating layers as well as wash and degrease parts prior to coating application. Using various sizes of steel grit, we can alter the surface profile to accommodate a range of coating types. We also mask off portions of a workpiece for selective coating applications or to protect sensitive machine surfaces.
Along with zinc enriched epoxy, polyurethane, and enamel coatings, we also spray on oil-based alkyd and chemical-resistant aliphatic formulations. We use airless and air-assist nozzles as well as air-assist agitated pot painting methods for ensuring consistent distribution of coatings with suspended pigments. Numerous quality checks include monitoring and adjustment of the booth atmosphere as well as digital profiling of the workpiece surface and coating layer, both in-process and upon completion. We issue NACE certified paint reports as necessary.
As a company that specializes in large fabrications and assemblies, we have the equipment it takes to provide a durable, protective, and aesthetically pleasing coating on your equipment and machinery. Contact us today to learn more about our coating capabilities.
Coating Capabilities
Coating Service

Customized Racking
Transport Fixtures for Large Weldments
Metal Preparation
Quality Documentation

Multiple Coat Systems
Small Parts Coating
Specialized Equipment
Equipment

Paint Booth

(1) State of the art 20' x 20' x 70' Long

Steel Grit Blasting Booth

(1) State of the art 20' x 20' x 50' Long
Substrates

Carbon Steel
Stainless Steel
Inquire about others
Types of Coating

Zinc Enriched Epoxy
Polyurethane
Enamel

Alkyd
Aliphatic
Pre-Coating Preparation

Coating Removal
Degreasing
Spray Washing

Steel Grit Blast to Specified Surface Profile
Protection of Machine Surfaces
Application Process

Airless Painting
Air Assist Painting
Air Assist Agitated Pot Painting
Production Volume

High Volume
Large Run
Large Scale Production Volume Run
Long Run

Low Volume
Prototype
Small Run
Quality Assurance

NACE Certified Paint Report
Digital Film Thickness Gauge
Digital Surface Profile Gauge
Sling Psychrometer

In-process Wet Film Gauges
System Calibration
AMU Heating Capability
Additional Information
Industry Focus

Aerospace
Agricultural
Architectural
Auto/Truck/Transportation
Chemical
Construction
Food
Heavy Industry

Machine Tool
Marine
Military
Mining
Oil Field
Steel Mill
Packaging/Converting
Power Generation
Industry Standards

NACE Certified
SSPC