Custom Fabrication of a Large Critical Weldment for OEM Mining Equipment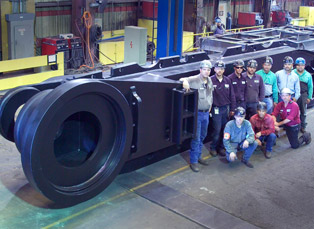 Signal Metal Industries, Inc. is proud to field a team of highly talented welding professionals that are capable of welding large, complex projects composed of specialized materials. Our work is in high demand in the mining industry, such as this project which required a combination of precision welding, multi-setup machining, and complete assembly. Our ability to provide large scale assemblies is backed by our capacity to lift and transport extremely large components across all of our departments. This allows us to perform all fabrication, machining, assembly, and inspection in-house.
In the project shown here a mining equipment OEM in Wisconsin required the fabrication of weldments that would be installed onto a large scale piece of equipment. The weldments had overall dimensions of 430" x 101" x 85", and required complex, multi-setup machining operations to tolerances of ± 0.0015". In order to fabricate ASTM A710 steel, our team had to undergo an intensive welding training program to meet the qualification guidelines. While we executed fabrication of the weldments flawlessly, extensive machining was still required using our large conventional boring mill. Aided by our Faro laser tracker inspection system, we were able to accurately verify our work throughout the entire operation. We also performed NDT, dimensional, and functional testing on the final assembly. The finished assembly weighed in at 166,000 lbs. Fortunately our facility is equipped with a 100-ton+ crane capacity which allowed us to handle the load.
The job was an overwhelming success and our customer was very pleased with our ability to handle the intricate welding and machining on steel such as ASTM A710. Through extensive coordination between our experienced fitters, welders, master machinist, and technicians, we were able to get the job completed within our customer's delivery timeframe of less than 10 weeks. As a result of our commitment to their success, we were quickly recognized by this customer as a top supplier. To learn more about our work in the mining industry, please contact us for additional information or refer to the table below.
Large Critical Weldment Project Highlights
Project Description

Large Critical Weldment for OEM Mining Equipment
Capabilities Applied/Processes

Steel Fabrication
Large Conventional Machining
Equipment Used to Manufacture Part

Large 150 Ton Crane, High Bay, Fabrication Building
Sub-Arc Welding
Large Conventional Boring Mill
Overall Part Dimensions

85" Height x 101" Width x 430" Length
Tightest Tolerances

±.0015"
Material Used

ASTM A710
Industry for Use

Mining
In Process Testing/Inspection Performed

Inspection per Router Steps, NDT, Dimensional, Functional Testing, Multi-Stage Faro Laser Inspection
Delivery/Turnaround Time

Eight (8) to Ten (10) weeks
Delivery Location

Houston, TX
Standards Met

AWS, ASTM