Design & Build of Steel Mill Scrap Charging Buckets with Pallet Carriers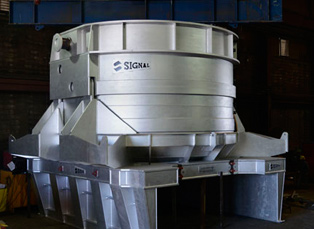 At Signal Metal Industries, Inc., we leverage our wide range of capabilities to design and fabricate steel mill equipment that delivers unmatched performance and value. We're a full-service provider that can design, manufacture, and test all of our products in-house. Backed by our ability to handle large welding and machining projects, we can expedite delivery schedules, lower costs, and add value to every project. We're an industry leader in the engineering and fabrication of steel mill scrap charging buckets, a crucial component in steel production.
We were recently contracted by a Midwestern steel mill to design and build multiple 3,860 ft3 steel mill furnace scrap charging buckets along with pallet carriers. The buckets required overall dimensions of 25' x 25' x 15' with tolerances as tight as + 0.001". Our design utilized A36, A572-50, A516-70, A668 CL D forgings, AISI 4140, and aluminum bronze bushings with graphite plugs. We employed a variety of processes including flame and plasma cutting, plate rolling, CNC boring and turning, thermal stress relieving, welding, and coating. The buckets and pallet carriers underwent an intensive inspection process using NDT, dimensional verification, assembly, and functional testing. This project was challenging as our team sought to develop an innovative solution within extremely tight design parameters. We also had to ensure that it would operate in conjunction with the customer's existing equipment. The success of this project was a result of constant collaboration between our engineering and manufacturing departments and of course our customer.
Our hard work led to scrap charging buckets that were able to function more reliably than ever before; requiring less maintenance and downtime for our customer. This project highlights our ability to gather and coordinate our resources while helping the customer improve their steel production process. The customer was pleased with every aspect of our work and continues to order additional charge buckets. To learn more about this project, or the processes used to create it, please contact us directly or refer to the table below.
Steel Mill Scrap Charging Buckets with Pallet Carriers Project Highlights
Project Description

Steel Mill Equipment Design and Build
Electric Arc Furnace Scrap Charging / Handling Equipment
Charge Buckets & Pallet Carriers
Capabilities Applied/Processes

Design / Engineering
Finite Element Analysis (FEA)
Flame / Plasma Cutting
Steel Processing
Steel Fabrication

CNC Machining
Conventional Machining
Thermal Stress Relieving
Coating
Assembly and Testing
Equipment Used to Design & Manufacture Part

Design:

Inventor
AutoCAD
ANSYS (FEA)

Manufacture:

Flame Cutting
Plasma Cutting
Plate Rolling
Large Conventional Boring Mill
CNC Boring Mills
CNC Lathes
Sub-Arc Welding Stations
Thermal Stress Relief Oven
Coating Facility
Overall Part Dimensions

25' Width x 15' Height x 25' Length
Tightest Tolerances

±.001"
Material Used

A36, A572-50, A516-70, A668 CL D Forgings, AISI 4140, Aluminum Bronze Bushings with Graphite Plugs
Industry for Use

Steel Mill
In Process Testing/Inspection Performed

Inspection per Router Steps, NDT, Dimensional, Functional Testing
Delivery/Turnaround Time

Four (4) to Five (5) Months A.R.O.
Delivery Location

Midwest, USA
Standards Met

ASME, AWS, ASTM