Engineering & Design Services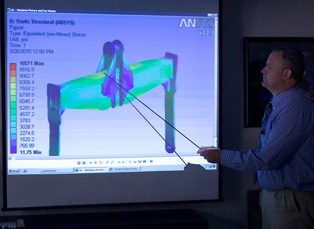 Our engineering capabilities combined with our deep roots in large part manufacturing enable Signal Metal Industries, Inc. to design equipment that can be built quickly, affordably, and in accordance with the highest quality standards. We leverage our extensive industry experience to provide detailed designs for equipment used in steel making and other applications within heavy industry. In addition to engineering material transport and lifting equipment, such as ladles, charge buckets, and J-hooks, we design and build fixtures, tooling, and equipment for OEMs serving the mining, oil field, construction, power generation, architectural, and many other markets.
Using a sophisticated array of software tools, we prepare detailed drawings and 3D models to ensure products are efficient to manufacture and provide exceptional performance while in service. Our engineering studies include finite element analysis, assessment of thermal performance, and evaluations of how the equipment will withstand the stress and strain of the extreme conditions found in heavy industrial environments. By tapping into our expertise in large part fabrication, we have unique insight in how to design fixtures and tooling that hold large, challenging parts for manufacturing, welding, and assembly. If a situation arises that involves failure of one or more components in a piece of equipment, we can assist with failure analysis to determine the root cause and recommend remedial measures.
From idea generation to detailed drawings and a full set of plans, we can transform your concepts into innovative yet practical solutions. We take the long view to ensure the designs align with your current needs and are adaptable for a long lifecycle in your processing or production operations. Contact us today to learn more about our engineering capabilities.

Download 3860 CU FT Steel Mill Charge Bucket with Transport Pallet 3D Model [Size 1.82 MB]
Engineering & Design Capabilities
General Capabilities

Consulting
Design

Detailing
3D Modeling
Engineering Analysis

Failure Analysis
Fatigue Analysis
Finite Element Analysis
Shock Analysis
Strain Analysis

Stress Analysis
Surface Analysis
Thermal Analysis
Vibration Analysis
Product Engineering

Material Transport & Lifting Equipment
Design & Build Fixtures for OEMs
Heavy Industrial Custom Design
Additional Information
Industry Focus

Aerospace
Agricultural
Architectural
Auto/Truck/Transportation
Chemical
Construction
Food
Heavy Industry

Machine Tool
Marine
Military
Mining
Oil Field
Steel Mill
Packaging/Converting
Power Generation
Industry Standards

ISO Compliant
AWS
ASME

AIST
ANSI
File Formats

AutoCAD (DWG,DWZ)
ANSYS
SolidWorks (SLDPRT,SLDDRW,SLDDRT)
BMP
DXF
GIF
IGES
Inventor (IDW, IPT)
JPG or JEPG

MasterCam (MDX, MC8, MC9, SET)
PDES
PDF
STEP
SurfCam (DSN)
GIBBS Cam
TIFF