Custom Manufacturing of 95 Ton Steel Mill Ladles & 200 Ton Ladle Bails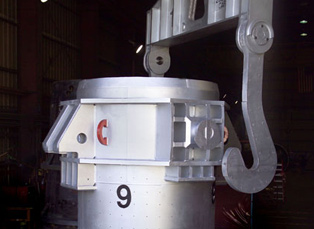 At Signal Metal Industries, Inc., we've been designing and manufacturing heavy equipment for steel mills for over 30 years. Backed by a wide range of in-house capabilities, we can help customers compress their time and costs on projects of virtually any size and scope. We develop solutions that are carefully engineered and validated to ensure seamless integration. We have the capability to build multiple pieces simultaneously and specialize in equipment for steel mill applications.
In the project highlighted here, a steel mill customer in Ohio requested a total of eight 95 ton ladles and two 200 ton lifting bail assemblies. Maximum dimensions for this project came in at 15' x 15' x 15' with tolerances as tight as + 0.001". Each 55,000 lb. ladle was made from specialized materials including A204 Gr B, A516-70, A36, A668 forgings, and 4140 round bar. We leveraged a full range of our core competencies, resources, and equipment to get the job done. This included engineering & design as well as complete fabrication that included plasma cutting, plate rolling, press brake forming, sub-arc welding, CNC milling and boring, thermal stress relieving, testing, and coating. Each finished ladle and bail underwent a comprehensive dimensional inspection using our FARO CMM laser tracker. We also utilized non-destructive testing (UT and MT) to evaluate each unit and ensure that they fully meet the design intent.
It was vital that these units were fabricated to be precisely compatible with their existing steel mill operation. Our customer was extremely pleased with our results, and they continue to order both hot metal ladles and lifting bails as required. We stood by our guarantees throughout the entire process, resulting in a long-term partner who repeatedly comes back to us with new opportunities. For more information on our manufacturing capabilities for steel mill ladles and bails, please refer to the table below or contact us directly.
95 Ton Ladles & 200 Ton Ladle Bails Project Highlights
Project Description

95 Ton Steel Mill Hot Metal Ladle and 200 Ton Lifting Bail
Capabilities Applied/Processes

Engineering / Design
ANSYS FEA
Flame / Plasma Cutting
Steel Processing
Press Braking
Plate Rolling
Steel Fabrication

Sub-Arc Welding
Certified Welders
CNC Machining
FARO Laser Inspection
Large Conventional Machining
Thermal Stress Relieving
Coating
Equipment Used to Manufacture Part

Flame Cutting
Plasma Cutting
Plate Rolling
Press Braking
Large Conventional Boring Mill
CNC Boring Mills

CNC Lathes
Conventional Lathes
FARO Laser Tracker
Sub-Arc Welding Stations
Thermal Stress Relief Oven
Coating Facility
Overall Part Dimensions

15' Width x 15' Height x 15' Length
55,000 lbs.
Tightest Tolerances

±.001"
Material Used

A204 Gr B, A516-70, A36, A668 Forgings, 4140 Round Bar
Industry for Use

Steel Mill
In Process Testing/Inspection Performed

Inspection per Router Steps, NDT, Dimensional, Thermal Stress Relieving Chart
Volume

Eight (8) Ladles & Two (2) Lifting Bail Assemblies
Delivery/Turnaround Time

Sixteen (16) to Twenty-Four (24) Weeks A.R.O.
Delivery Location

Ohio, USA
Standards Met

ASME, AWS, ASTM, NACE