About Signal Metal Industries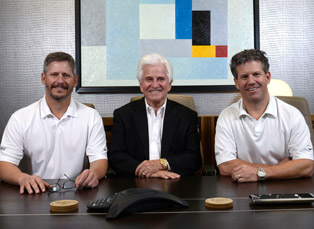 In 1973, Robert Robinson and Bill Parkinson, with over 40 years combined experience in the Steel Service Center Industry, founded Signal Metal Industries, Inc. in a single 40,000 SQFT building on five acres, with the goal of becoming the best steel plate flame-cutting company in the DFW Metroplex. In very short order, serving primarily the Oilfield, Construction, and Machinery industries, this goal became reality, and Signal soon outgrew its Irving, Texas facility. The 1978 acquisition of additional acreage just south of downtown Dallas, allowed Signal to increase inventory, add additional machines, and move flame-cutting operations to the new plant.
Soon thereafter, Mr. Robinson became sole owner of Signal, and in order to diversify the business to make it less susceptible to the boom/bust cycle typical of the oil industry, began providing conventional machining services in addition to a new line of USA made steel plate flanges.
In just a few years, more capabilities were added, including rolling, forming, and welding. These additions paved the way to Signal becoming what it is at present, but the real turning point was receiving the first order for a 150 Ton Hot Metal Ladle and the construction of a new "high-bay" facility in which to fabricate, stress relieve and machine it.
This 1990 expansion was just the beginning of a steady growth in capabilities and diversification. A 1995 addition included 26 new fabrication bays serviced by over 100 Tons of lifting capacity, allowing us to accept orders for multiple large fabrications at once. Following a seamless transfer of ownership to the second generation of the Robinson family in 2000, additions in the new millennium have included a building allowing more mid-size fabrication bays, a new machine shop outfitted with various types and sizes CNC machine tools, and most recently, state of the art sandblast and painting facilities.
All told, we now have over 120,000 square feet of manufacturing space on 20 acres, with an inventory of 3000 tons of plate and structural steel. These facilities and inventory allow us to meet almost any heavy steel fabrication and machining need, and to do so economically, even when faced with aggressive delivery schedules.
New facilities and technologically advanced machinery are, however, only part of the story. As we have grown and become more diversified, and as the requirements of our industry have become more stringent, we have been ahead of the curve with regard to both quality and safety. Our recently added credentials include, Joint Certification Program (JCP) and System for Award Management (SAM), CAGE 7PSZ2. Our ability to continously expand our offerings is a testament to the hard working, smart, and dedicated employees who work here. Their efforts have been the true force behind Signal becoming the company it is today.