CNC Machining Services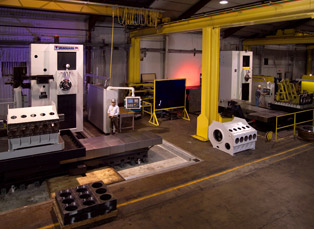 With our large-scale CNC machining capabilities, Signal Metal Industries, Inc. is a premier provider of quality machined parts and fabrications. Serving the needs of clients from coast to coast, our facility is equipped with large swing lathes, heavy duty CNC drills, and machining centers that allow us to manage workpieces with oversized dimensions and weighing up to 10 tons. Our machining equipment is located in a high bay area with lifting capacity that enables us to safely maneuver heavy workpieces. We have a staff of technically skilled machinists noted for their fine quality workmanship and attention to detail on each machining project.
Our largest drill features XYZ travel of 180" x 120" x 17" while our largest horizontal lathe features a 47" 4-jaw chuck with a maximum swing of 62" and 240" Z-axis travel capacity. We have several heavy duty CNC mills, including horizontal boring mills and vertical mills with multiple axes of high-resolution machining motion. Built-in rotary tables allow us to machine complex workpieces in a single setup. Our manufacturing staff is exceptionally proficient in designing custom fixtures that improve the machining process and allow us to achieve a high degree of precision and speed.
In addition to carbon steel weldments, we work with forgings and castings of many different metals and alloys in a variety of grades and tempers. Our processes are flexible and dynamic enough to handle simple shapes or geometrically complex forms. Also, we have a comprehensive range of additional capabilities, from design engineering to product assembly, finishing, and everything in between to meet the needs of your production part or project. Contact us today for more information about our CNC machining capabilities or a quote.
CNC Machining Capabilities
Machining Processes

Milling
Drilling
Boring
Facing
Turning
Threading
Tapping
Thread Milling

Knurling
Keying
Counterboring
Countersinking
Pocketing
Profiling
Reaming
Parting/Cutting
Equipment

CNC Drills

(1) Quickmill
X Axis 180", Y Axis 120", Z Axis 17"
(1) MULTICAM
X Axis 120", Y Axis 60", Z Axis 28.5"

CNC Mills

(2) Hundai Kia HBM
X Axis 118", Y Axis 78", Z Axis 63", W 27.8" B 360
(2) VANGUARD HBM
X Axis 118", Y Axis 78", Z Axis 78.7", W 31.5" B 360
(1) YCM TV VMC
X Axis 70.8", Y Axis 33.8", Z Axis 29.5"

CNC Lathes

(1) Honor Seiki Vertical 63" 4Jaw Chuck, Max Swing 78.7", 35.4" Z Axis
(1) Honor Seiki Vertical 32" 3 Jaw Chuck, Max Swing 37.4", 25" Z Axis
(1) Haas Horizontal 15" 3 Jaw Chuck Max Swing 19", 35" Z Axis
(1) VDF horizontal 47" 4 Jaw Chuck Max Swing 62", 240" Z Axis

Press Brakes
Equipment Capabilities

CNC Control Capabilities
Large Swing Lathe
Heavy Machining
Fixturing

Three-jaw Chuck
Four-jaw Chuck

In-House Fixturing & Tooling Design
Rotary Tables
Materials (Metals)

Castings
Forging
Alloy Steels
Aluminum
Brass
Bronze Alloys

Carbon Steel
Copper
Iron
Stainless Steel
Stellite (Hardfacing)
Lead Times Available

Quoted on Job by Job Basis
Emergency Services Available
Rush Services Available
Additional Information
Industry Focus

Aerospace
Agricultural
Architectural
Auto/Truck/Transportation
Chemical
Construction
Food
Heavy Industry

Machine Tool
Marine
Military
Mining
Oil Field
Steel Mill
Packaging/Converting
Power Generation
Industry Standards

ISO Compliant
AWS
ASME

AIST
ANSI
File Formats

AutoCAD (DWG,DWZ)
SolidWorks (SLDPRT,SLDDRW,SLDDRT)
BMP
DXF
GIF
IGES
Inventor (IDW, IPT)
JPG or JEPG

MasterCam (MDX, MC8, MC9, SET)
PDES
PDF
STEP
SurfCam (DSN)
GIBBS Cam
TIFF