Flame / Plasma Cutting Services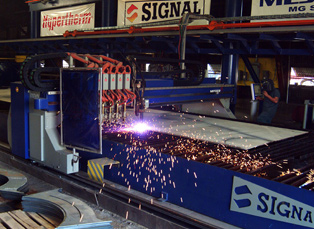 At Signal Metal Industries, Inc., we have deep roots in the flame cutting industry. Serving the needs of industry since 1973, our extensive in-house capabilities enable us to achieve the tightest tolerances and meet the most challenging delivery schedules. With our multi-torch, CNC controlled oxy-fuel and plasma cutting equipment and 25-ton lifting capacity, we can process plate measuring up to 60' in length x 13' in width x 12" in thickness.
We have an onsite burning facility with a continuously replenished inventory of more than 2,000 tons of A36, A572-50, A516-70, A514-TI, stainless and alloy plate measuring from 3/16" up to 12" in thickness. Our two oxy fuel multi-torch cutting machines and two plasma machines, one with a CNC drilling and beveling head, can operate 20 hours per day to process jobs in an expedited manner. With a technically trained team of experienced programmers and operators using powerful AutoCAD and NC Polaris software tools, we deliver quality parts with narrow ±1º kerf cuts and tighter than standard dimensional tolerances. We specialized in delivering parts in a cleaned up condition free from slag and with no rough edges.
Cost-effective in low or high volume, our flame cutting services satisfy the needs of OEMs and manufacturers in a diverse range of industries. We specialize in providing complete parts kits, professional packaged to protect the contents during transport and storage. As part of our comprehensive job shop capabilities, we also offer services such as beveling, drilling, and part stamping/etching. If you are interested in learning more about our reliable and high-quality flame cutting services, contact us today.
Flame / Plasma Cutting Capabilities
General Capabilities

Oxy-Fuel Multi-torch Cutting Service
Plasma Cutting
Method

Oxy-Fuel
Plasma
Process

CNC Cutting
Beveling

Plate Processing
Plasma Cutting
In-House Capabilities

A 10-acre burning facility with over 2000 tons of A36, A572-50, A516-70, A514-TI, stainless and alloy plate (3/16" to 16" thick).
Three CNC Oxy fuel multi-torch cutting machines and two plasma machines operating 20 hours per day.
Experienced programmers and operators using AutoCAD and NC Polaris give our customer's quality parts cut to tighter than standard tolerances.
Cutting Action Type

CNC-Controlled
Number of Torch Heads

Up to 6
Cutting Material

Carbon Steel
Alloy Steel
Abrasion Resistant Steel

High Strength Low Alloy Steel (HSLA)
Stainless Steel
Cutting Dimensions

Thickness: 12"
Length: 60'
Width: 13'
Kerf

±1º
Tolerance

± 1/16" (.25 to 2")
± 1/8" (2 to 4")
± ¼" (4 to 12")
Lifting Capacity

25 tons
Additional Services

Beveling
Drilling
Etching

Extensive Piece Part Cleaning
Professional Packaging
Part Kits
Intended Application

Custom Parts for OEMs
Custom Manufacturers and Fabricators
Production Volume

Low to High Volume
Lead time

Quoted on a Job by Job Basis
Additional Information
Industry Focus

Aerospace
Agricultural
Architectural
Auto/Truck/Transportation
Chemical
Construction
Food
Heavy Industry

Machine Tool
Marine
Military
Mining
Oil Field
Steel Mill
Packaging/Converting
Power Generation
Industry Standards

ISO Compliant
AWS
ASME

AIST
ANSI
CSA
File Formats

AutoCAD (DWG,DWZ)
SolidWorks (SLDPRT,SLDDRW,SLDDRT)
BMP
DXF
GIF
IGES
Inventor (IDW, IPT)
JPG or JEPG

MasterCam (MDX, MC8, MC9, SET)
PDES
PDF
STEP
SurfCam (DSN)
GIBBS Cam
TIFF