Repair, Modification & Refurbishment of Heavy Industrial Production Equipment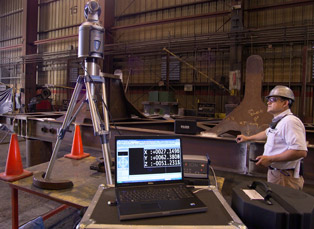 Since our founding, Signal Metal Industries, Inc. has been closely associated with steel mills, mining companies, oil & gas processors, and other users of heavy industrial production equipment. We are intimately familiar with the construction and operation of this highly engineered equipment and specialize in the repair, modification, and refurbishment of these valuable capital assets.
Whether it is a planned repair or an emergency event, our extensive in-house capabilities allow us to address your situation, make an assessment, and provide a solution on an expedited basis. Our team of experienced engineers, project managers and repair specialists has an excellent mix of skills. They are capable of diagnosing issues and presenting a repair plan to restore your equipment to its full potential. For critical repair issues, we work around the clock until your equipment and machinery are ready to return to full operation.
With our comprehensive fabrication, machining, welding, and assembly capabilities, we can make repairs to large, oversized machinery and equipment. We can tackle projects that involve repairing damaged or worn components, such as ladles, charge buckets, tundishes, and turrets. Basically, when any of your heavy equipment breaks down, we are available to make repairs and modifications that restore it to like new condition for an extended service life. We also perform any necessary test and inspection procedures to validate the integrity of our repair work.
Our emergency repair crew offers 24 hour a day, 7 day a week response. We also make repairs to out-of-service equipment to accommodate your production schedule or work around pre-planned downtime. For more information about our equipment repair capabilities, contact us today.
Equipment Repair Capabilities
General Capabilities

Heavy Industrial Production Equipment Repair
Emergency Repair
Heavy Equipment Repair

Steel Mill Equipment Repair:

Steel Mill Ladle Repair
Steel Mill Charge Bucket Repair
Steel Mill J-Hook Repair
Steel Mill Tundish Repair

Mining Equipment Repair
Oil Field Equipment Repair
Heavy Industrial Equipment Repair
Emergency Repair Response

24 hours/7 days a Week Operation
Processes

Faro Laser Inspection
Steel Processing
Steel Fabrication
Thermal Stress Relieving

CNC/Conventional Machining
Experienced Equipment Repair Specialist
Diagnose and Present Effective Repair Plan
Dedicated Engineers and Project Managers
Materials (Metals)

Castings
Forging
Alloy Steels
Aluminum
Brass
Bronze Alloys

Carbon Steel
Copper
Iron
Stainless Steel
Stellite (Hardfacing)
Lead Times Available

Quoted on Job by Job Basis
Emergency Services Available
Rush Services Available
Additional Information
Industry Focus

Aerospace
Agricultural
Architectural
Auto/Truck/Transportation
Chemical
Construction
Food
Heavy Industry

Machine Tool
Marine
Military
Mining
Oil Field
Steel Mill
Packaging/Converting
Power Generation
Industry Standards

ISO Compliant
AWS
ASME

AIST
ANSI
File Formats

AutoCAD (DWG,DWZ)
SolidWorks (SLDPRT,SLDDRW,SLDDRT)
BMP
DXF
GIF
IGES
Inventor (IDW, IPT)
JPG or JEPG

MasterCam (MDX, MC8, MC9, SET)
PDES
PDF
STEP
SurfCam (DSN)
GIBBS Cam
TIFF