Flange Manufacturing Services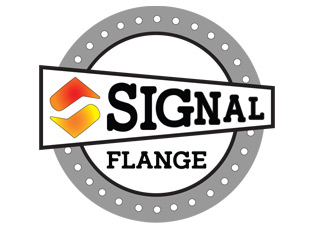 At Signal Flange we have been manufacturing high-quality carbon plate flanges for more than 35 years. Offered in both standard and custom configurations, we manage the entire fabrication process in-house to provide fast turnaround and economical pricing. We are one of the nation's largest manufacturers of AWWA carbon steel flanges and have the ability to machine special flanges in all styles that measure up to 198" O.D.
Our extensive heavy-duty manufacturing capability combined with a large inventory of plate stock allows us to meet the most complex and challenging quality and delivery requirements. We leverage numerous fabrication methods, including plate burning, CNC and conventional machining, automated flange drilling, robotic welding with automatic positioning, and many other state-of-the-art technologies to produce flanges with precise tolerances and fine surface finishes. Our expertise spans all flange types, including blind and reducing flanges, spectacle and paddle blinds, O-rings and Victaulic rings, adapter rings, and many other custom flanges. We can provide thermal stress relief, die-stamp/etching identification markings, and apply protective coatings, all in-house.
As an ISO compliant manufacturing company, we perform both in-process and final inspections to ensure flange quality. In addition to traditional dimensional measurement equipment, we use high-end laser devices to verify tolerances. We offer non-destructive testing (NDT) on flanges for the most stringent applications to confirm they are defect-free. We provide material traceability and inspection reports to document that our products meet the highest standards of excellence.
Send us your drawing, and we will reply with a quote. We offer same day shipment for stock items and provide rush and emergency services when time is a factor or service is interrupted. For more detailed information about our standard and custom flange products, contact us today.
Flange Specifications

AWWA C207 Table 2 Class B Ring (86 psi) [Size 42.5 KB]


AWWA C207 Table 2 Class D Ring (175-150 psi) [Size 42.5 KB]


AWWA C207 Table 3 Class E Ring (275 psi) [Size 42.5 KB]


AWWA C207 Table 4 Class F Ring (300 psi) [Size 30.7 KB]


AWWA C207 Table 5 Blind Flange Thickness [Size 36.7 KB]


AWWA C207 Appendix B.1 Class D Hub (175-150 psi) [Size 44.8 KB]


AWWA C207 Appendix B.2 Class E Hub (275 psi) [Size 44.6 KB]
Flange Manufacturing Capabilities
General Capabilities

Flange Marking
CNC Drilling
CNC Machining
Conventional Machining
Counter Boring
Counter Sinking

Thermal Stress Relieving
Taping
Coating
Non-Destructive Testing
Robotic Welding
Automatic Welding Positioners
Flange Types

AWWA C207 Flanges
Custom/Special Flanges
Precision Flanges
Tube Sheets
Blind Flanges
"Special" Thickness & Diameters
Reducing Flanges
Lightweight Flanges
Spectacle Blinds / Paddle Blinds
Mechanical Joint / MJ Bell

Square
Utility
O-Ring
Victaulic Rings
Back-up
Skirted Flanges
Tower Flanges
Wind Tower Flanges
Industrial
Adapter Flanges
Materials

Carbon Steel
A105 Forging
A36
A516-70

A572-50
A588
HSLA
Stainless Steel (304/304L & 316/316L)
Finishing Services Available

Painting
Coating

Marking
Stamping
Diameter

Up to 198" OD
Tolerance (+/-)

Industry Standard Tighter Tolerance*
Surface Finish

125-250 RMS
Inspection Services

Faro Laser Inspection
Non-Destructive Testing
*Traditional Dimensional Measurement Equipment
Testing

Hydro
Surface Finish
Quality Assurance

Documentation
Material Traceability
Inspection Reports
Production Volume

Prototype
Small and High Volume Production Run
Specialty Production Shop

Low Volume
High Volume
Typical Lead Time

Quoted on Job by Job Basis
Emergency Services Available

Rush Services Available
Same-day Stock Shipment
Additional Information
Industry Focus

Water Works
Wind Tower
Utilities
Aerospace
Agricultural
Architectural
Auto/Truck/Transportation
Chemical
Construction
Food

Heavy Industry
Machine Tool
Marine
Military
Mining
Oil Field
Steel Mill
Packaging/Converting
Power Generation
Industry Standards

ISO Compliant
AWS
AWWA

ASME
ANSI
File Formats

AutoCAD (DWG,DWZ)

PDF