Large Conventional Machining Services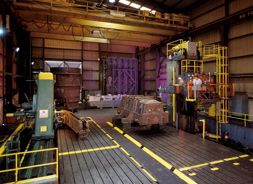 Specializing in large weldment machining, a portion of our 120,000 ft2 of manufacturing space here at Signal Metal Industries, Inc. is devoted to our large, heavy-duty horizontal boring mills and vertical turning lathes. In addition to supporting our comprehensive fabrication capabilities, our large conventional machining services are offered as a standalone job shop service as well. With our wide range of machinery and equipment, we manage projects that involve oversized and heavy workpieces as well as smaller weldments and sub-assemblies.
At the center of our operations are two floor-type horizontal boring mills with 6" spindles and 120,000 lbs. of table capacity as well as an addition mill with a 7" spindle and 150,000 lbs. of table capacity. We also have five large turret head vertical turning lathes. These machines are equipped with positioning and lifting systems that allow us to easily manipulate workpieces to maintain an exceptional level of precision and accuracy.
With their extensive experience, our machinists have a deep understanding of the challenges associated with large part machining and are intimately familiar with machine operations. They tap into their strong background to design fixtures that accommodate parts with challenging geometries, and they are adept at the extensive tooling setups often required for large part machining. Using tools such as digital readouts and Faro laser devices our technicians continually monitor the quality of the workpieces while they are still on the machine.
We also have large, 17' wide x 33' long x 23' tall thermal stress relieving furnace on site. This allows us to stress relieve workpieces prior to machining, which enables us to consistently uphold exceptionally close tolerances across large dimensional spans.
If you are interested in learning more about our large part conventional machining capabilities, contact us today.
Large Conventional Machining Capabilities
General Capabilities

Large Horizontal Boring Mill
Large Vertical Turning
Equipment

Mills:

(1) Asquith floor type horizontal boring mill with a 7" spindle has 150,000 lbs. of table capacity. Machine travel is 35' on x-axis, 13' on y-axis and 10' on z-axis. Attachments include large right angle head and facing slide.
(1) Giddings & Lewis model 60t horizontal boring mill with a 6" spindle has 120,000 lbs. of table capacity. Machine travel is 21 1/2' on x-axis, 88" on y-axis, and 48" on z-axis. Machine is equipped with 78" x 96" air lift roatry tables and Heidenhain DRO.

Lathes:

(1) Sellers VTL (192") table with 116" bridge height and 114" head height.
(1) Betts VTL (100") table with 72" vertical.
(1) Bullard VTL (74") Capacity: 74" table with 48" vertical travel.
(1) King VTL (72") Capacity: 72" table with 48" vertical travel.
(1) Bullard VTL (42") Capacity: 42" table with 36" vertical travel.
Equipment Capabilities

Digital Readouts
Faro Laser (Used to ensure accuracy and inspect large parts)
Large On-site Stress Relieving Oven
Machining Processes

Milling
Drilling
Boring
Facing
Turning
Tapping

Keying
Broaching
Counterboring
Countersinking
Pocketing
Reaming
Fixturing

Three-jaw Chuck
Four-jaw Chuck
In-House Fixturing & Tooling Design

Rotary Tables
Extensive Large Setup Tooling (for large parts)
Materials (Metals)

Castings
Forging
Alloy Steels
Aluminum
Brass
Bronze Alloys

Carbon Steel
Copper
Iron
Stainless Steel
Stellite (Hardfacing)
Lead Times Available

Quoted on Job by Job Basis
Emergency Services Available
Rush Services Available
Additional Information
Industry Focus

Aerospace
Agricultural
Architectural
Auto/Truck/Transportation
Chemical
Construction
Food
Heavy Industry

Machine Tool
Marine
Military
Mining
Oil Field
Steel Mill
Packaging/Converting
Power Generation
Industry Standards

ISO Compliant
AWS
ASME

AIST
ANSI
File Formats

AutoCAD (DWG,DWZ)
SolidWorks (SLDPRT,SLDDRW,SLDDRT)
BMP
DXF
GIF
IGES
Inventor (IDW, IPT)
JPG or JEPG

MasterCam (MDX, MC8, MC9, SET)
PDES
PDF
STEP
SurfCam (DSN)
GIBBS Cam
TIFF