Airport Passenger Boarding Bridge Components for the Transportation Industry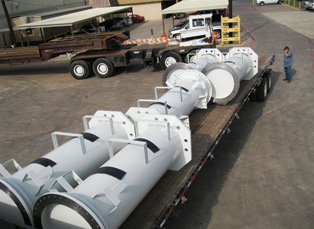 At Signal Metal Industries, Inc., we possess the resources and experience to supply production components to the complex needs of the transportation industry. Using our state-of-the-art machining and fabrication capabilities, we are able to accommodate large production runs in-house with accelerated delivery schedules. We've also implemented a state-of-the-art supply chain application that can process sub-assemblies within our MRP system. It allows us to create a stocking program that is ideally suited for extremely tight delivery deadlines. This allows us to react to our customer's changing needs and quickly ramp up operations to meet any supplier requirement.
This transportation customer in Texas asked us to manufacture a number of column weldments for airport passenger boarding bridges. Each unit weighed 6,000 lbs. and required varied part dimensions up to 16' long and 6' in diameter with tolerances as tight as + 0.001". Using A36 and A572-50 plate, we performed flame cutting, plasma cutting, welding, CNC machining, CNC drilling, press brake forming, plate rolling, and thermal stress reliving. Combining robotic automation with innovative programming procedures, we were able to reduce project costs by applying standard sub-assemblies to various final part configurations. Once completed, our NACE certified finishing department used a high-quality paint to provide additional surface protection for an enhanced overall appearance on each bridge component. In order to ensure quality control across all phases of production, every part underwent extensive NDT, dimensional verification, and coating analysis.
The project entailed many of our core competencies and required that our team perform together seamlessly so that we could meet the customer's tight production schedule. Impressed by our work and commitment to quality, they continue to depend on us for manufacturing services by ordering 8-10 units per month. All of our work was performed in full compliance with standards by ASME, ASTM, AWS, and NACE. To learn more about our work in the transportation industry, please contact us or refer to the table below.
Airport Passenger Boarding Bridge Components Project Highlights
Project Description

Column Weldments for Airport Passenger Boarding Bridges
Capabilities Applied/Processes

Flame / Plasma Cutting
Steel Processing
CNC Press Braking
Plate Rolling
Steel Fabrication
Robotic Welding

CNC Machining
CNC Drilling
Conventional Machining
Thermal Stress Relieving
Sandblasting
Painting
Equipment Used to Manufacture Part

Flame Cutting
Plasma Cutting
Plate Rolling
Press Braking
Large Conventional Boring Mill
CNC Boring Mills

CNC Lathes
Conventional Lathes
Robotic Welding
Thermal Stress Relief Oven
Sandblast Facility
Painting Facility
Overall Part Dimensions

Varies, 6' Diameter, up to 16' Length, & up to 6,000 lbs.
Tightest Tolerances

±.001"
Material Used

A36, A572-50 Plate
Industry for Use

Transportation
In Process Testing/Inspection Performed

Inspection per Router Steps, NDT, Dimensional, Finishing
Volume

Eight (8) to Ten (10) per month
Delivery Location

Texas, USA
Standards Met

ASME, AWS, ASTM, NACE