Steel Fabrication & Assembly Services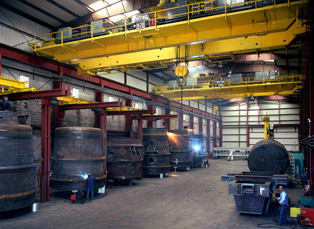 At Signal Metal Industries, Inc., production of custom steel fabrications is one of our core strengths. Our heavy plate fabrication experience spans more than four decades, and we have achieved status as being one of the most reliable and respected companies in the field. With quality and timeliness as two of our foremost priorities, we are ISO compliant and have an outstanding record for on-time completion.
We offer complete turnkey fabrication and assembly for projects that range in size from moderate to epic. Our 120,000 square-foot facility houses a full range of heavy duty plate fabrication machinery, state-of-the-art robotic and manual welding stations, an oversized stress-relief furnace, and range of machining and finishing equipment. We have cranes that can lift up to 100 tons, 35 feet under hook, as well as multiple medium-size fabrication bays with 20-ton lifting capacity.
Inside our dedicated assembly area, we have the tools for managing the installation and testing of electrical, hydraulic, and lubrication systems as well as the installation and alignment of mechanical components such as motors, gear drives, wheel assemblies, and more. In addition to traditional measuring instruments, our quality lab houses the latest technology laser-based measuring devices as well as hydro, pneumatic, and lift testing equipment. We also offer a full range of Non-Destructive Testing for verifying weld quality.
We take a structured, organized approach to project management. Our multi-disciplined engineers, fabrication specialists, quality technicians and assembly professionals work together as a team to ensure quality objectives are met and that schedules are on track. Our key manufacturing leaders are hands-on and each have over 25 years of experience. We have a long history of supplying quality fabrications that support needs of steel making, heavy industry, power generation companies, and many other industries where large scale equipment and machinery are the norm. Contact us today to learn more about our steel fabrication, welding, and assembly capabilities.
Steel Fabrication & Assembly Capabilities
Manufacturing Process

Plate Rolling
Press Break Forming
Welding
Robotic Welding
Punching
Thermal Stress Relieving
CNC Machining

Large Conventional Machining
Conventional Machining (VTL's & Boring Mills)
Plate Processing
Structural Processing
Sandblasting
Painting
Welding

Submerged Arc
Semi-Automatic
Flux Core

MIG/TIG
Robotic
Arc
Equipment

Welders

(60) MIG Welders ranging from 450 to 600 AMP
(2) 1500 AMP Electra Slag (Lincoln)
Motoman robot welder with 5,000 LBS capacity dual positioner. 360° capabilities with a overall reach of 122"

Cranes

(2) 50-ton bridge cranes Bail Height 32' with 15-ton aux
(1) 50-ton bridge crane Bail Height 35'
(3) 20-ton Bridge Cranes
(9) 10-ton Bridge Cranes
(22) 5-ton Bridge Cranes
(2) 7.5-ton Bridge

Press Breaks

Cincinnati CNC – 10' long 230-ton press break
Cincinnati – 20' long 400-ton press break
Burns – 300-ton bumping press

Rolls

Faccin 3" x 10' wide variable geometry plate bending machine
Webb 3/8" x 8' wide plate roll
Westinghouse ¼" x 4' wide plate roll

CNC Robot

Moto Man Duel Cell Duel Drop Center

Positioners/Turning Rolls

(1) Set Aronson WRD – 20 powered drive rolls
(3) 6000 lbs. turning rolls
(2) Aronson manipulator arm
Set 60 ton universal turning rolls

Stress Relieving

(1) Rail Car Bottom Stress Relieve Furnace
17' Wide x 23' High x 33' Long
Material Form

Forging
Casting
Plate
Structural

Sheet
Special Steel
Bar Stock
Tubing
Material

Carbon Steel
Stainless Steel
High Strength Low Alloy

Alloy Steel
Hardened Steel
Tolerance

± 1/8" (Typical)
± 1/16" (Possible)
Thickness

Typical up to 12" (Larger available upon request)
Weight

Up to 100 tons
Overhead Lifting Capacity

Up to 150 tons
Inspection / Testing

Traditional Measuring
FARO Laser
FARO Arm
NDT

Dye Penetrant
X-Ray
Ultrasound
MAG Particle

Hydro Testing
Pneumatic Testing
Lift Testing
Documentation

Material Certifications
Certificate of Conformance
Quality Report
Reports per Customer Specifications

Inspection Report

Dimensional
Weld Quality
Coating
Stress Relieve
Additional Services

Engineering

Field Services

On-site Consulting
Fabrication/Assembly
Production Volume

500 Tons Monthly
Job Shop to Production Runs
Specialty Production Shop

Prototype
Low Volume
High Volume
Typical Lead Time

Quoted on Job by Job Basis
Emergency Services Available
Rush Services Available
Additional Information
Industry Focus

Aerospace
Agricultural
Architectural
Auto/Truck/Transportation
Chemical
Construction
Food
Heavy Industry

Machine Tool
Marine
Military
Mining
Oil Field
Steel Mill
Packaging/Converting
Power Generation
Industry Standards

ISO Compliant
AWS
ASME

AIST
ANSI
CSA
File Formats

AutoCAD (DWG,DWZ)
SolidWorks (SLDPRT,SLDDRW,SLDDRT)
BMP
DXF
GIF
IGES
Inventor (IDW, IPT)
JPG or JEPG

MasterCam (MDX, MC8, MC9, SET)
PDES
PDF
STEP
SurfCam (DSN)
GIBBS Cam
TIFF